Areas of Benefit
European North-West Shelf Seas and Iberian-Biscay-Irish regional seas
Marine and Coastal Environment: Water Quality, Hydrographic conditions, Marine Biodiversity and Food Webs.
Description of Service
CefMAT is the Cefas Marine Assessment Tool providing scientists access to marine environmental assessments to address policy questions. CefMAT Atlantic Assessments offers a free service that provides data products to support marine assessments in relation to hydrographical conditions, water quality, eutrophication, biodiversity and marine food webs. It uses EO satelites and modelling data from Copernicus Marine Environment Monitoring Service (CMEMS) to provide tailored outputs to assess the state of the seas support the implementation of the Marine Strategy Framework Directive (MSFD).
The specified data sets used from the Copernicus Marine Service are:
Other satellite data products are:



Environmental variables data are processed in CefMAT to generate products that are directly relevant to MSFD assessments.
The service is freely available. Users must register to access the service, please use the register button at the top of the page. Feedback can be provided at the CefMAT service desk.
Acknowledgement
Generated using E.U. Copernicus Marine Service information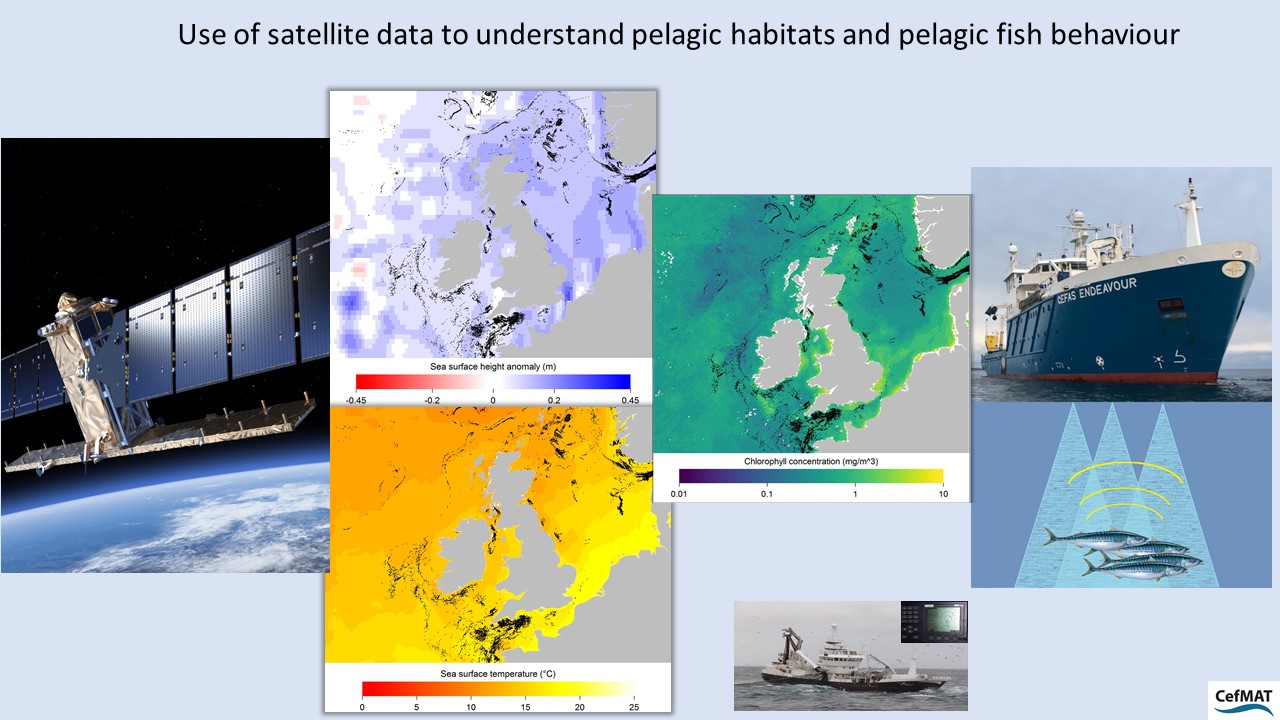 Acknowledgement
Generated using E.U. Copernicus Marine Service information
News and Highlights

Data supporting policy questions
Data from Copernicus Marine Service on Ocean Colour Satellite observations and Physics and Biogeochemistry reanalysis for the North Atlantic European Western Shelf and used in CefMAT to generate assessment products that can be useful to address questions from the Marine Strategic Framework Directive (MSFD) and Oslo and Paris convention (OSPAR) in relation to hydrographic conditions, water quality and eutrophication, biodiversity and food webs.
Cefas collaborates with the HIGHROC project (HIGH spatial and temporal Resolution Ocean Colour, www.highroc.eu), EUFP7 project (AMD-606797-3) to develop high resolution coastal water products combining in-situ measurements from different platforms, developments in atmospheric correction and parameter estimation to improve the application of ocean colour to coastal areas.
Cefas collaborates with the project Data Cube Services for Copernicus http://dcs4cop.eu to address challenges of handling big data and integrating data streams from sentinel satellite series.

Cefas will lead the data management for biological data involved in building a network of supersites of coastal observatories in Europe including the SmartBuoys (West Gabbard, Warp) together with Deltares (NL), Ifremer (F), RBINS (B), CNRS (F), RWS (NL) at the JERICO-S3 Horizon 2020 Research and Innovation programme providing high-quality marine data, expertise and infrastructures for Europe's coastal seas http://www.jerico-ri.eu/.